Royals Take City Title
3/14/19 - 08:54 AM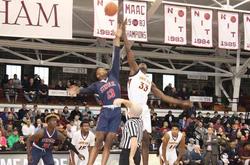 The CHSAA 'AA' City Championship on March 10 saw Christ the King H.S., Middle Village, battle to a 61-56 victory over Archbishop Stepinac H.S., White Plains, N.Y., at the historic Rose Hill Gymnasium at Fordham University in the Bronx. (Photos (C) Ji
The Christ the King H.S., Middle Village, boys' varsity basketball team has returned to the Promised Land.
In the 92nd playing of the annual CHSAA 'AA' Intersectional Basketball Championship on March 10, the Royals battled to a hard-fought 61-56 victory over Archbishop Stepinac H.S., White Plains, N.Y., at the historic Rose Hill Gymnasium on the campus of Fordham University, the Bronx.
The win marks Christ the King's first city championship win since 2015. From 2010-2015, the Royals won five of six city titles.
Christ the King turned in a strong regular season, finishing 18-10 overall and 10-6 in league play. However, an injury in January to junior guard Quaran McPherson – a CHSAA All-League player who averaged a
---