Remembering NYC high school hoops legend Clare Droesch
5/15/18 - 10:17 AM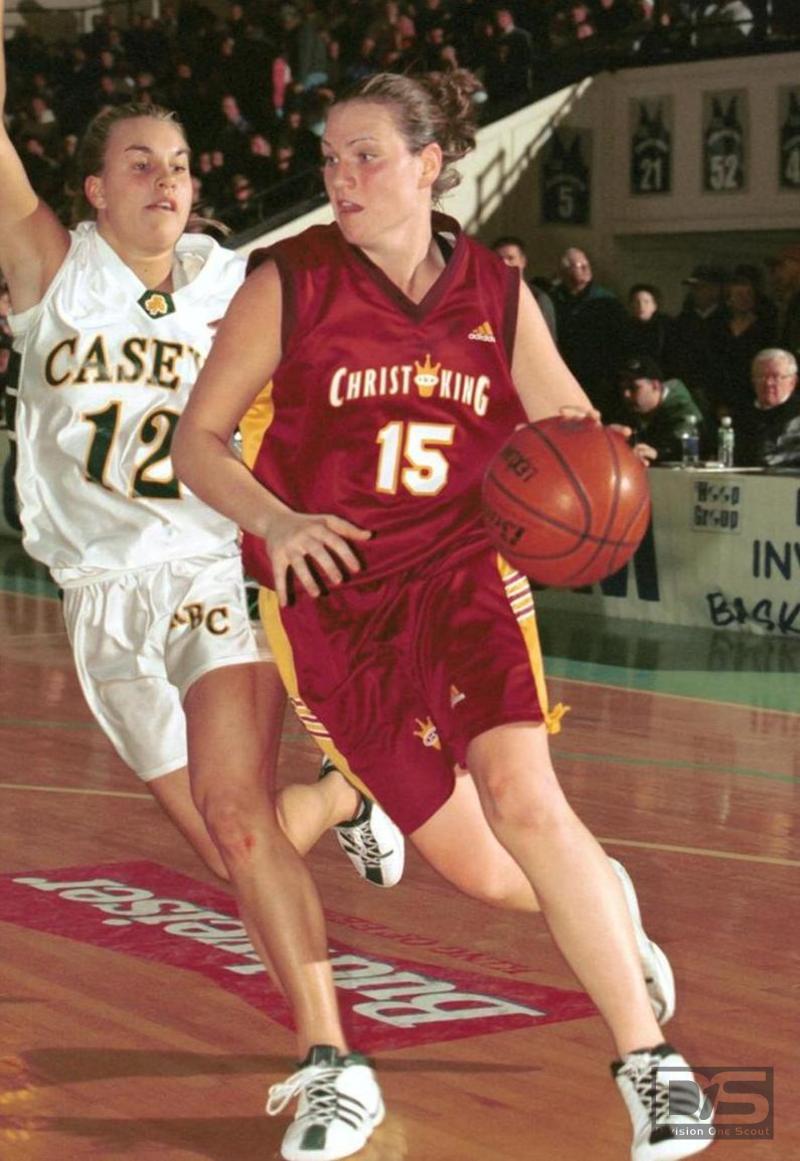 Christ the King's Clare Droesch
By
KRISTIE ACKERT
| NEW YORK DAILY NEWS |
MAY 12, 2018
PHILADELPHIA - The thing I remember about Clare Droesch was not so much the natural way she found the basket. It wasn't so much the sweet jump shot that took her from Christ the King to the national stage at Boston College. It wasn't even her self-assuredness on the court or the dry sense of humor she had.
The thing that alway stuck with me about Clare was the respect that other players had for her.
A few days after she had set the Christ the King girls record for scoring back in 1999, dropping 48 points in a heated CHSAA battle between the Royals and scrappy Bishop Kearney, I was at her practice. Sitting in the stands waiting for then coach Vincent Cannizzaro to wrap it up, a few of the players from the boys team walked in and sat in the stands.
Omar Cook, who was one of the best high school boys' guards in the country at the time, sat down and we started to chat. I mentioned Clare's game earlier in the week and I said I thought she was one of the best women players I had ever seen. Cook looked at me funny for a minute.
"Clare's one of the best players there is," Cook corrected me with the ultimate respect for his schoolmate. "She's a great player."
He was right, Droesch was a player and a gamer in a city full of exceptional players.
I was devastated to hear that Clare succumbed to the breast cancer she had so valiantly fought against for years on Friday. She was diagnosed with breast cancer in December 2011 and she was just 36 years old when she died.
One of the many girls who learned the game in the Belle Harbor neighborhood of Rockaway, Droesch became a CYO star at St. Francis De Sales before heading to Christ the King. She went on to play at Boston College, joining her neighborhood friend and CHSAA Bishop Kearney rival Janelle McManus.
"Clare was one of the most passionate players I have ever coached. She had a deep love for the game of basketball, her team and Boston College," Cathy Inglese, Droesch's former college coach, said in a statement. "Clare filled many roles for our team, the most important being the 'clutch player' when the game was on the line. She wanted the ball in her hands for the final shot, which was usually the winning shot.
"Her confidence and leadership spread to others on the team. Her impact on the team was unmeasurable."
Droesch went on to serve as an assistant coach in college and returned to New York to work with high school players. She was an assistant coach at her alma mater recently.
She leaves a long legacy as a coach and player.
I'll never forget sitting in the jam-packed Kearney gym that night that Droesch scored 48 points against the Tigers and one of her closest friends, McManus. She was determined, fearless and electric. After the game when asked about breaking the Royals' girls scoring record in such a big game, I remember her clear blue eyes flashing and her laughing when told she was just six shy of the boys record.
"I shot 8-of-12 from the free-throw line; if I had made my shots, I would have had a shot at that one too," Droesch said with a laugh.
She was named an ACC Legend in 2015 and is a member of the Boston College Varsity Club Hall of Fame. For New Yorkers, Droesch was an All-City Player in New York and honored as the Girls Player of the Year.
To me and the rest who were lucky enough to watch her play and know her a little, she will simply be remembered as one of the best to play the city's game.
---
ALL-USA Girls Basketball Coach of the Year: Bob Mackey, Christ the King
5/4/18 - 01:23 PM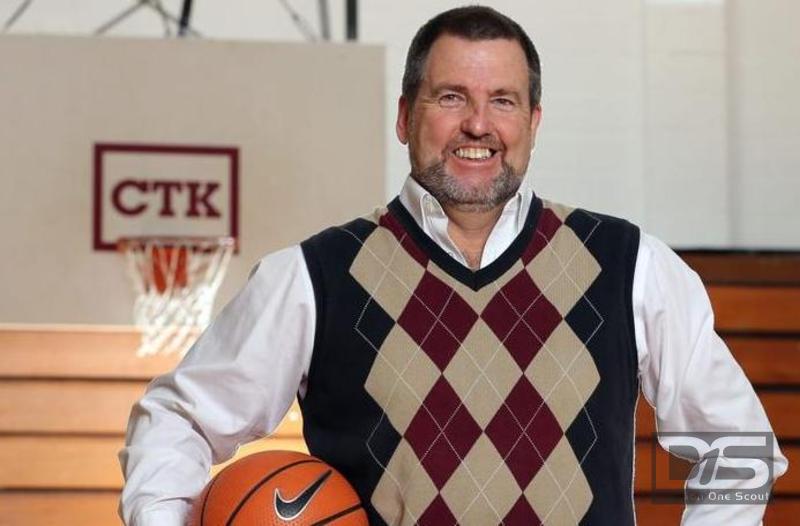 COACH PROFILE:
Name:
Bob Mackey
School:
Christ the King (Middle Village, N.Y.)
Details:
Coached his team to its 25th state Catholic school state title. Has coached three players who made the 35th anniversary ALL-USA girls roster: Sue Bird, Chamique Holdsclaw and Tina Charles. He was the ALL-USA Coach of the Year in 2005 and 2006. Also coaches volleyball at Christ the King.
Favorite food:
Italian. It's usually pasta.
Playing highlight:
Played four years at Xavier High School in Manhattan and have some great memories with great players and great alumni.
My worst sport:
Golf. I can't putt to save my life.
Early jobs:
The first job I ever had was cutting fruits and vegetables for a vegetable stand in the Rockaways for the summer. That and dishwashing in a restaurant were probably the worst jobs I've ever had.
What my real job is like:
At Christ the King, I'm the bottle washer. I clean the floor. I teach chemistry. I'm the athletic director, along with the boys coach, Joe Arbitello. I drive the bus. I also teach honors chemistry and direct a research program for science research, which is always fun.
Biggest influences:
I had some great CYO and grammar school coaches. They were all men with families and they all had jobs but the time they put in with kids really had an impact and made a difference. Between them and high school coaches and many of the college coaches I associated with, were all influences.
Making sacrifices:
For my family, vacations are few and far between. I've missed a lot of family dinners. I was very lucky. Even though I missed a lot of my daughter's youth games in middle school and grammar school, but I was able to coach her in soccer and CYO and then I was lucky that she came to play for me at Christ the King. I coached (Kerry) in basketball and volleyball at Christ the King. She's graduating this May from (Manhattanville College), is a Division III All-American in volleyball and coaches travel volleyball.
Smartest player:
Probably Sue Bird. She saw the game and still sees it in a very unique way. You can hear it now when she calls games on TV.
Inspiration on the bench:
My assistant coach, Clare Droesch, who played for me and was an All-American at Boston College. She was a hell of a player her and still holds the school single game scoring record with 53 points in a game. She was diagnosed six years ago with Stage 4 breast cancer. It's been a tough battle. She's lost the use of her legs but has not missed a game this year. She has been an inspiration and a real role model for the kids.
Secret entertainer crush:
Julia Roberts.
CTK tradition:
The tradition in New York, especially in the Catholic League is incredible. I heard this morning from one of my former players, Shay Dorron, who won a national title at Maryland. Tina (Charles), Carrem Gay and 11 or 12 former players came back when we played for the Brooklyn-Queens title this season. The whole crew hung out like they had never left. It was great for my kids to see that camaraderie going on so many years later.
---
Second-ranked CTK on national championship chase by Bryan Fonseca
3/1/18 - 11:18 AM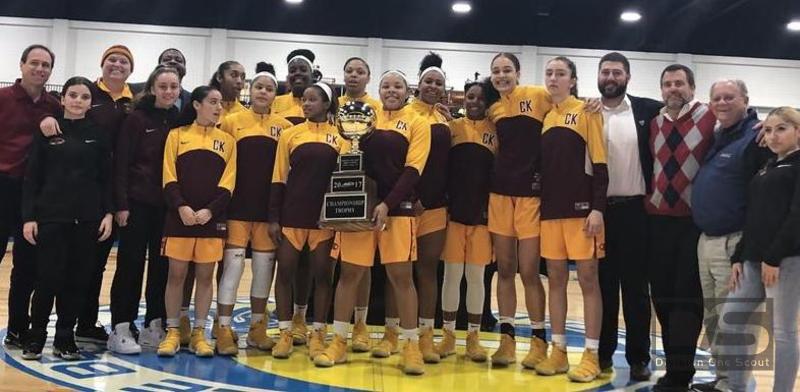 Bob Mackey doesn't claim to see into the future, and before this season he didn't even try.
But if you told him that his Christ the King girls' basketball squad would be 24-0 and second in the USA Today National Super 25 Girls' Rankings following a regular season schedule littered with prominent programs across the city, region and country, he might've thought you were inebriated.
"I would've said, I would like to know what you're having because it must make you very happy," Mackey, smiling, told this paper following a Thursday morning team practice in Middle Village.
But today, this is exactly the case.
The Royals are second only to San Jose, California-based Archbishop Mitty in the USA National Rankings ahead of the upcoming Brooklyn/Queens Catholic League playoffs, which begin on Thursday, followed by the CHSAA "AA" title tournament the following week.
The Brooklyn/Queens playoff championship is where the Royals saw their season end a year ago with a 66-64 loss to The Mary Louis Academy, determined by a game winner with 3.4 seconds left.
"After that we were just all heartbroken and hysterically crying, just walking off with each other arm and arm," said Klarke Sconiers, a 6-foot-3 standout junior. "I remember being in that locker room and saying we never wanna feel this way again, and we should never feel this way again.
"We just came out this season with a different kind of push," she added. "Last year shouldn't have unraveled like it did."
Over the course of their perfect regular season, the Queens-based club has defeated a number of other ranked teams.
The Royals opened their 2017-18 schedule by edging fourth-ranked Paul VI (Virginia), who is still eighth in the country, by one point. From December 20-23, they competed at the Beach Ball Classic in South Carolina, going 4-0 and defeating high-level teams like Winder Barrow (Georgia), Wesleyan Christian (North Carolina) and St. Francis (Georgia).
On January 27, the Royals defeated Riverdale Baptist, who were third in the country at one point, by double-digits, as well as handling CHSAA competition like Mary Louis, Archbishop Molloy, and Long Island Lutheran.
They've played everybody, but more importantly, they've beaten everybody, some by 20, others by 30, occasionally by 40-plus.
"I've seen those as statement games every time we've played a ranked team," said Royal guard Kaelynn Satterfield, one of the country's highest rated juniors at her position. "It's just that we were doubted so much, so we have that mindset to prove everybody wrong. Our regular season league games, we knew we had to dominate.
"I don't think anyone was expecting us to play as well as we did against nationally ranked teams," she continued. "It wasn't like this last year, we were basically in close games all the time."
It's clear that the lesson learned last season has not been lost on this group. Coach Mackey thinks that the title loss taught the team, most of which returned this year, to not take anything for granted.
"There were games they didn't show up," Mackey said. "We were here physically, but mentally it's very hard to stay focused for 24 games. Some games they kind of went through the motions. They didn't do that this year. Even in games we knew we had to win, they stayed focused and worked hard.
"They're a little older and a little more mature," he added. "The pressure is still there, I just think we're a little more prepared. You just hope that it's enough."
In preparation for their this year's campaign, the team implemented off-campus CrossFit workouts into their regimen before the season. The Royals worked with trainers who designed workouts specifically for them based on needs and discussions with the team.
The workouts were two days per week on Fresh Pond Road, and at times they also ran with the school's track team at Juniper Valley Park.
"It was a really nice experience," Sconiers said of the pre-season preparations, CrossFit in particular. "We did a lot of range of motions, lifting and a lot of conditioning. That really helps us on the court, with transition and being in better shape than most of the teams we play."
Every game is a playoff game from this point forward, and with the team being undefeated through a whole regular season, and second in the country with a shot at a National Championship, their upcoming opponents will play harder than they already would with their season on the line.
While the team believed they were this capable, coach Mackey insists that they're not yet able to join the "all-time greats" in the school's storied history of outstanding teams just yet.
"All those teams up there, and all those teams over there on that board, they're not up there yet," said Mackey, pointing at numerous accolades on the walls of the Royal gym. "The bar is raised, my job is just keep them on the road. They can veer off, they can change lanes, but don't get off the road. It's on them to finish.
"There's some coaches who you can give credit to, but my job is to set the table," he continued. "They've got to make the food, I've got to make sure that they're prepared. If they lose a game now it's over, it doesn't matter what you did in the regular season."
---
Senior Night Friday Feb 16th
2/9/18 - 12:39 PM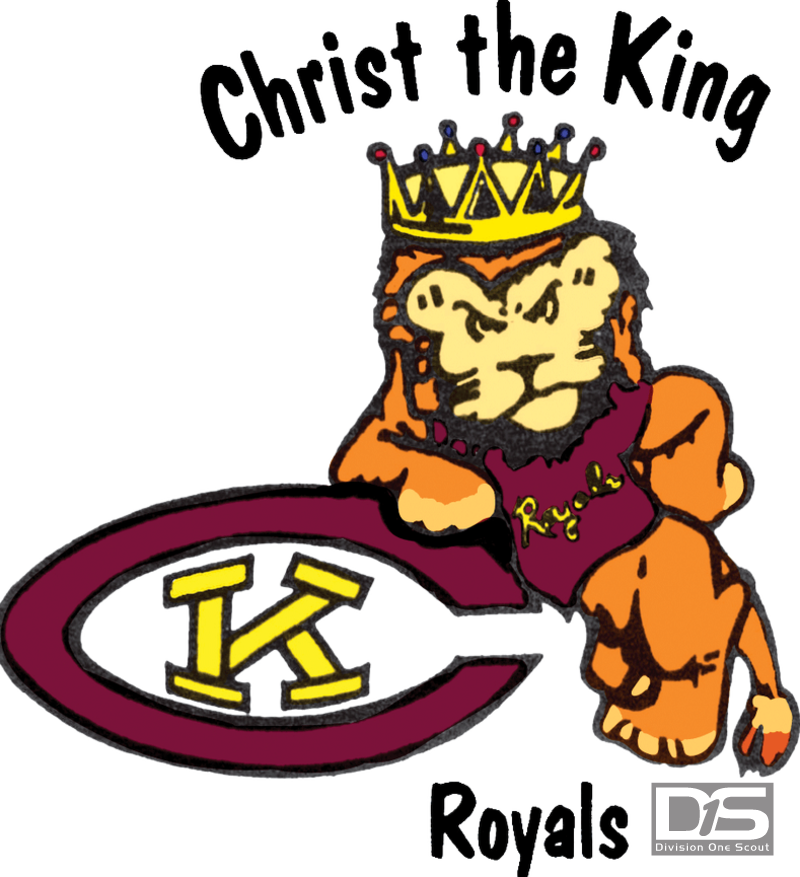 Celebrate the Class of 2018
Senior Night will be played on Friday February 16th. The games will be as follows:

4:00 Girls JV vs. Bishop Loughlin
5:30 Girls Varsity vs. Bishop Loughlin
7:00 Class of 2018 Presentation
7:30 Boys Varsity vs. Van Arsdale

Come out and Celebrate the Class of 2018. All Seniors will be admitted Free! Go Royals!!
---
Christ the King (N.Y.) tops Saint Francis (Ga.) for Myrtle Beach Holiday Invitational title
1/2/18 - 10:04 AM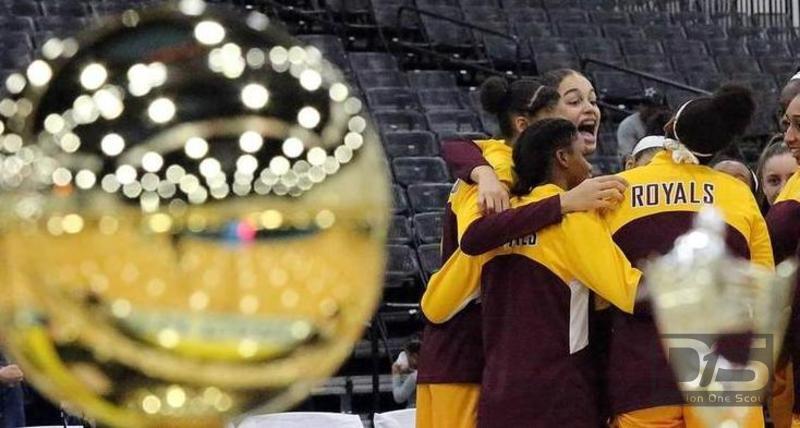 Christ the King (N.Y.) celebrates the win over Saint Francis (Ga.) 67 to 61 in the finals of the Crescom Bank Holiday Invitational on Saturday, Dec. 23, 2017.
BY DAVID WETZEL
dwetzel@thesunnews.com
Four players scored in double figures and two recorded double-doubles as Christ the King (N.Y.) defeated Saint Francis (Ga.) 67-61 to win the CresCom Bank Holiday Invitational on Saturday at the Myrtle Beach Convention Center.
Kaelynn Satterfield had 18 points and 10 rebounds and Brandy Thomas (11 points, 10 rebounds) also posted a double-double, and Klarke Sconiers had 12 points and Nina Richards had 11 to lead the Royals (8-0) past the Knights (8-3).
The game was tied most of the way, with Christ the King holding a double-digit lead just a few times. The game was tied four times and included five lead changes.
Jordan Isaacs (19 points) and Eliza Snyder (14) led the way for Saint Francis. The Royals out rebounded the Knights 45-27.
Next game for the Royals will be agaist defending NY State Champion South Shore on 1/7 at 11:00 AM
---
CK Beats #8 Paul VI
12/5/17 - 09:36 AM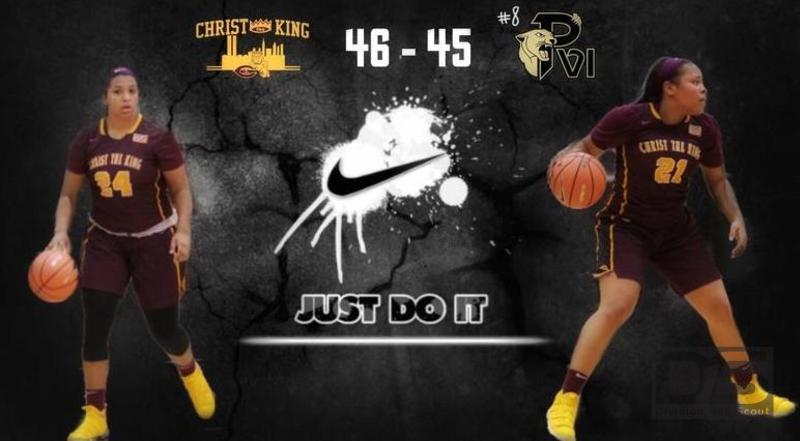 Jim Haley USA Today
FAIRFAX, Va. — Christ the King 5-10 senior guard Brandy Thomas wasn't the obvious choice for the inbound pass. With her team trailing 45-43 with 43 seconds to play Friday in the Art Turner Tipoff Classic, the likely target would have been 6-4 sophomore post Natalija Marshall.
Somehow, Thomas squeezed her way into the lane, took the inbound pass from Kealynn Satterfield and made a layup and an ensuing free throw to lift the unranked Royals to a 46-45 defeat of No. 8 Paul VI (Fairfax, Va.).
"That's our secret play," said Thomas, who led Christ the King with 11 points. "Everybody shifts over and I act like I'm playing safety and then you come back for the layup. They caught us on it and I finished strong, so I got the and-one. I expected it (the contact) and I knew I was going to make the shot."
It was the opener for both teams, so there were plenty of missed shots and mistakes.
"I don't know how she got in there, but it was a great game and a great atmosphere," Paul VI coach Scott Allen said, adding his team was hurt by its reliance on jump shots. Senior 6-3 post Amira Collins, a Tennessee signee, led the Panthers with 16 points.
"You can't set your defense if the ball doesn't go in the basket," Allen said. "That's one of the things we struggled with. We settled for some jump shots a lot of times, and the ball didn't go in. In the second half, we did a better job of getting the ball inside."
Paul VI, the tournament host, had a chance to win. With four seconds left, Panthers sophomore guard Aurea Gingras drove the lane and got off a solid layup attempt that rolled off the rim.
"That's our first game, wow," Christ the King coach Bob Mackey said. "If we could play that 10 times, it would be a lot of fun because both teams would be a lot better. That was a heavyweight battle."
---
NYC Forward Makes Her College Choice
9/21/17 - 10:15 AM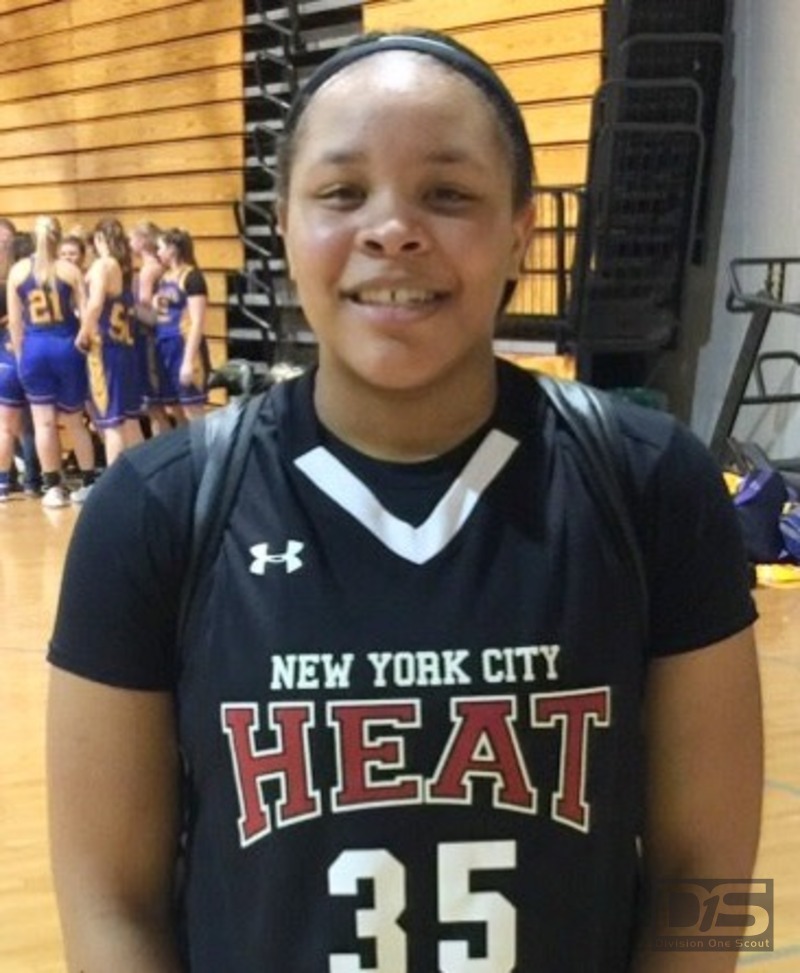 NYCHoops.net
Mike Libert | Staff
One of the more unsung and underrated talents throughout the summer AAU months was 5'9" guard Brandy Thomas (Christ the King '18).
Starting with the NYC Heat and then finishing up in July with New Heights, Thomas looked more comfortable with the ball in her hands, continuously used her strength to push her way to the basket, while also becoming a strong shooter from long range.
Her importance to Christ the King is huge as well as she embraced the role as veteran leader last season as a junior, and now looks entrenched as one of the Royals top scorers going into her senior season, one that she hopes will end with a CHSAA City Championship.
College wise things were beginning to pick up as of late for Thomas as well, but one school who has been on her for many months now has been LIU-Brooklyn as they were the first school to offer her back in April, and after a visit this past weekend to the Blackbirds campus, Thomas knew she had found home committing to the NEC power on Sunday evening.
There was a deep bond built between Thomas and the LIU-Brooklyn coaching staff from the get go as they made her a priority throughout the summer, making sure they got to as many games of hers as possible.
While the Blackbirds ended up as the only Division 1 school to offer Thomas, she was starting to hear a good amount from St. Peter's, Hofstra, and UMass, but there was no need to continue with the process when your heart already knows what it wants.
"The moment I went on an unofficial to LIU-Brooklyn I knew because I loved the atmosphere, and the team and coaching staff were so welcoming," Thomas stated. "I am just so happy to be committed to a school that I love."
Blackbirds head coach Stephanie Del Preore did a fantastic job recruiting Thomas, but she and her staff weren't the only ones going out of their way to make her feel wanted and needed.
Playing with New Heights throughout July, Thomas built a close relationship with point guard Lauren Hackett, and when Hackett committed to LIU-Brooklyn in August, Thomas says her attention turned towards making she Thomas soon was to follow.
"Lauren absolutely did recruit me," Thomas said. "We got really close and both of our games gel together, and we loved playing together and hanging out so knowing I have someone I know already when I get there was huge."
What LIU-Brooklyn will get in Thomas is someone who will do whatever is needed for the team. She is a tenacious rebounder and doesn't mind mixing it up inside when asked, but she is also capable of being a lead guard as she has improved her handle, while being able to score in multiple ways making her a true dynamic threat who should be a valuable weapon for LIU-Brooklyn in the years ahead.
With the college decision out of the way, Thomas now can set her sights on the CHSAA Championship that she so covets. Christ the King fell just short last season losing at the buzzer to The Mary Louis Academy, and with that moment and game still sticking with her, Thomas wants to make sure she goes out a winner.
"I don't want to leave high school without getting our trophy back. I want it back and I want to add a State Federation chip too. I want to go out a champion," Thomas admitted.
The future is bright for LIU-Brooklyn with its recent commits, and Thomas should only make the future even brighter as her winning mentality and pedigree will only help the Blackbirds climb the ladder in the Northeast Conference.
Read More: https://nychoops.rivals.com/news/girls-brandy-thomas-makes-her-college-choice
---
NYC Forward Turns A Negative Into A Positive
9/21/17 - 10:13 AM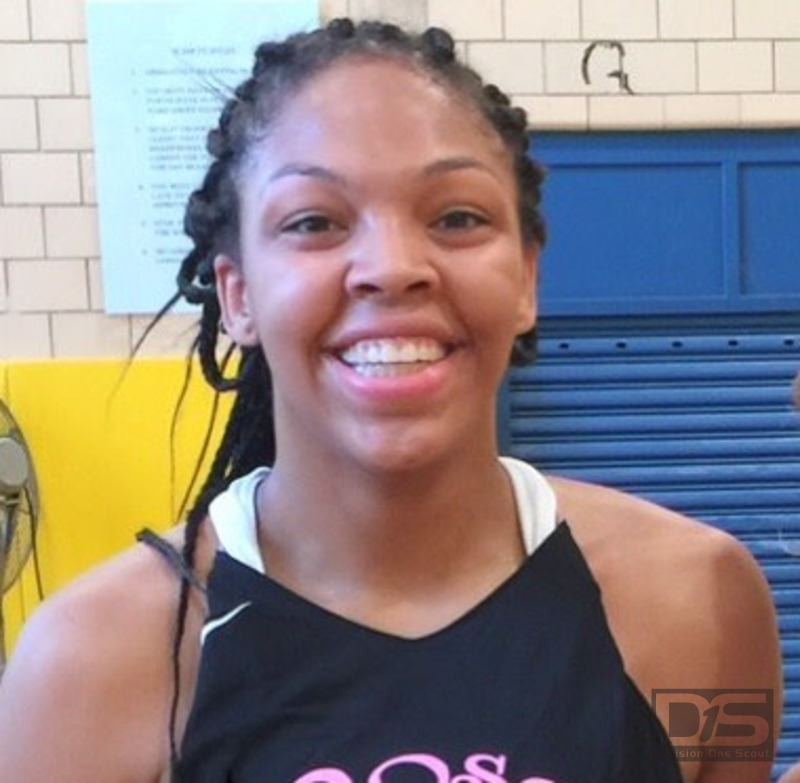 NYCHoops.net
Mike Libert | Staff
It was a difficult summer for 6'2" forward Klarke Sconiers (Christ the King '19) as one of New York's premier talents was forced to the sidelines for 3 months due to a sprained MCL and a deep bone bruise in her knee.
All she could do was sit on the bench and be the best teammate she could possibly be for her Exodus EYBL 15u teammates, but at the end of the day looking back now Sconiers wonders if the injury may be the best thing that could've happened to her as she has a new appreciation for the game, and a stronger desire to be the best player she can be.
The injury happened on June 10th, and while Sconiers said she wasn't sure right away that it would cost her the rest of her summer, when she did find out Sconiers said her first instinct was a feel of letting her teammates down.
"Everyone was saying it's ok and don't worry but it hurt me because I knew there would be games where they needed me and I wasn't going to be out there," Sconiers said.
Sconiers still traveled the entire July Live Period season with her Exodus 15u team but all she could do was evaluate the game from the bench. It wasn't easy for her at first, but as time went on Sconiers started to see positives to come out of it, feeling as if it could have been a true blessing in disguise.
"At first it was tough but it helped me gain a perspective of what I needed to do better on all aspects of the court being able to look at the game through that light," Sconiers stated. "Just sitting out, I really believe has made me hungrier to be a more dominant player now."
Coming back onto the court for the first time since June at the Rose Classic this past Saturday, Sconiers was back to her old self as she was posting up down low and showing off an array of moves around the basket, while also putting the ball on the floor and finishing in the midrange.
As one of New York's most intriguing talents in the Class of 2019, Sconiers says she will soon be taking unofficial visits to most of the local schools who are recruiting her, plus Boston College and Michigan as she wants to get a better feel of both of those schools, each of whom has already offered.
Feeling close to 100%, Sconiers is excited for the upcoming Live Period weekend, along with the high school season as she wants everyone to see that she is official back on the scene and ready to prove she is among the best in New York.
"Oh yeah I just want to get my name out there and for everyone to know that I am back."

Read More: https://nychoops.rivals.com/news/girls-nyc-forward-turns-a-negative-into-a-positive
---
CK Hoops Star Ready To Take Next Step As A Junior
9/10/17 - 06:08 PM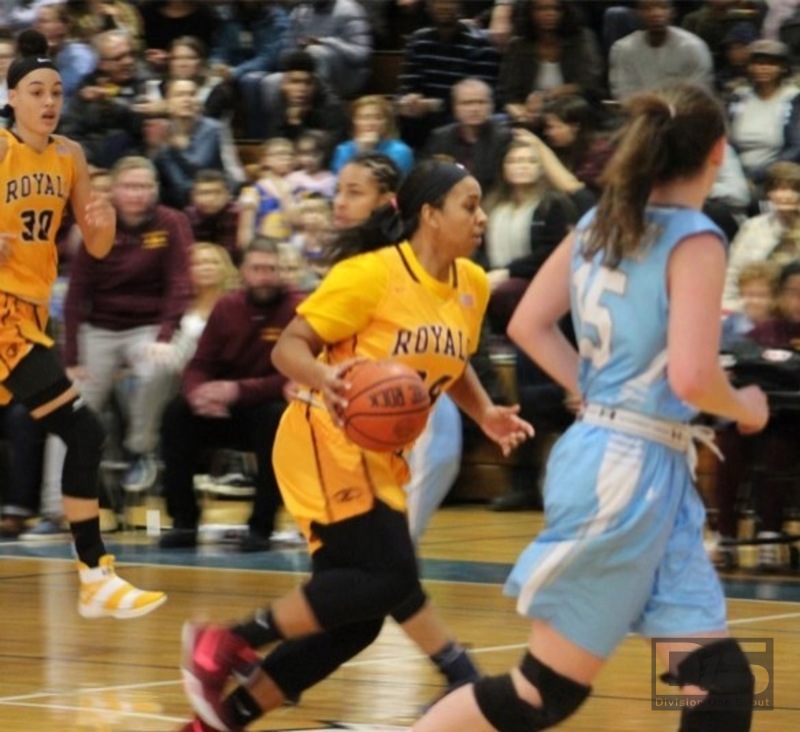 Kaelynn Satterfield
TimesLedger.com
By: Zack Gewelb
Kaelynn Satterfield took a big step forward as a sophomore and now is planning to continue improving as she prepares to enter her junior season with Christ the King.
The hoops standout played a big role for the Royals last season. She helped guide the team to a 17-6 record and an appearance in the BQCHSAA 'AA' title game. But it wasn't always easy for Satterfield.
"Last season started kind of slow for me," she said. "It was my second year on varsity, but it was a whole new team because all the seniors had left, so I had to get used to playing with the girls who moved up."
Along with learning how to play with a new set of players, Satterfield also moved to point guard after playing off the ball as a sophomore. The new role took some time to figure out, but she found a way to adjust.
"Maybe five games into the season, I kind of got the hang of it and I just started dominating," Satterfield said. "I played smart and I passed the ball very well. Sometimes you have to adjust to your personnel and I was able to do that."
Once Satterfield made her adjustments, she — and the team — took off. The 6-foot guard led the way for the Royals, putting up a solid 17.3 points per game to go along with 6.2 rebounds.
She led the Royals deep into the playoffs, which came as a surprise to those who follow city hoops. Even Satterfield admitted the team overachieved a bit, despite falling to Mary Louis in the championship game.
"With our team being so young last year, I feel like we did extremely well even though we fell short in the [championship] game," she said.
Satterfield's journey to stardom began when she was 7 years old. Basketball runs in the family, and she picked up the sport quickly working with her parents — both former players — even though she wasn't sure she wanted to play right away.
"It took me a while to like it a first," she said. "My father played basketball and my mother played, too, and they really wanted me to play. But I had to get into it, myself."
She picked up a lot of learning from her parents and is grateful for their help over the years. But she didn't want to be a carbon copy of her parents on the court.
"I really wanted to be my own player," Satterfield said. "My dad was more of a shooter, while wanting to do a little bit of everything."
Even now, Satterfield still relies on her father to help her hone her skills during the offseason.
"I've been working a lot with my dad," she said. "I'm a versatile player, so I have to be ready to play at different positions. We've been working on a little bit of everything every day."
Satterfield is already a star, but she believes that — with her work ethic — she can be even better.
"I think my biggest competition is myself," she said. "Sometimes I get down. But if i stick with it and keep working hard like I do with everything every day, I think I can be pretty good."
Satterfield has put in the work, and she know's her teammates have, too, which means the team will have high expectations moving forward.
"We want to win States for sure," Satterfield said. "Even though we didn't make it that far last year, the team has been working hard all summer. I think we'll definitely be ready for the season."
Reach reporter Zach Gewelb by e-mail at zgewelb@cnglocal.com or by phone at (718) 260–4539.

http://www.timesledger.com/stories/2017/36/satterfield_2017_09_08_q.html
---