Royals get big win, Mackey gets 400
1/9/17 - 10:44 AM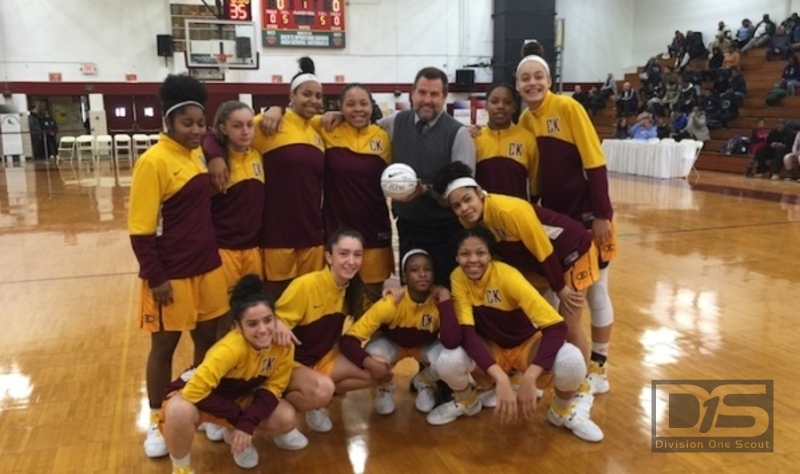 Mr. Mackey celebrates his 400th win with the Girls Varsity team after CK beat South Shore
MSGVarsity.com
by Elio Velez on Sun, Jan 8, 2017 2:40 PM — @eliovelez
Christ the King coach Bob Mackey confidently believed putting together a strenuous early season schedule would test the mettle of his young girls basketball team.
As the season has progressed, the learning curve for Christ the King has continued to grow to the point where the hosts put together a significant win on Sunday afternoon. Brandy Thomas scored a game-high 16 points as the Lady Royals earned a 51-43 victory over defending PSAL Class AA champions South Shore at the Apparel Challenge held in Middle Village.
Klarke Sconiers added 7 points with 10 rebounds for Christ the King, who improved to 8-3 overall this season and ranked No. 2 in New York City by News 12 Varsity. Even more impressive was the resolve the hosts showed in rallying from an early 10-point deficit in the first half to defeat an experienced top ranked Lady Vikings in the News 12 NYC Top 10 poll.
"I'm very happy for the win. Does this mean a lot? Well yeah it's a game but this is a step in the right direction" Mackey, who was honored by the school for winning his 400th career game on December 22 at the Tournament of Champions in Phoenix, Arizona.
"We're starting to come together but I thought we played three bad quarters of basketball and played one real good quarter at the end," Mackey added. "But it was nice to finish at the end."
The meaning of Sunday's was even more impressive with a almost new-look Christ the King team with former stars Dominique Toussaint, Sydney Zambrotta and Kaela Kinder, departing last year due to graduation.
Mackey had put a lineup on the floor that has two sophomores; two juniors and 6-4 freshmen center Natalija Marshall. Yet the team's size with the 6-2 Sconiers, Thomas and Kaelyn Satterfield did eventually play a factor to limit the Vikings from scoring inside the paint and displayed a solid resolve down the stretch.
"It shows that we have a lot of heart," the junior forward Thomas said. "We don't give up on each other. We just keep going."
South Shore (8-3) had shook off a slow start in the second quarter to take control of the game. Tsahai Corbie knocked down her second consecutive three-pointer and converted the three-point play with 3:08 left in the first half to give her team a 20-10 advantage.
Even though South Shore maintained their lead and went up 35-32 going into the fourth quarter, the team never found a consistent offensive rhythm to increase their slender advantage.
Thomas forced her way to the paint to score on a three-point play for a one-point lead early in the fourth quarter and Sconiers converted four straight free throws as the Lady Royals continued to get second chance shots on the offensive end. The hosts would further the lead with a minute to go as Jaeonna Sutton found Thomas for a layup to make it 47-40 over the Lady Vikings.
Destiny Philoxy scored 14 points and Seton Hall commit Selena Philoxy was held to just 9 points as South Shore coach Anwar Gladden expressed his displeasure at his team's lack of execution on both ends of the floor.
"We were just a step behind today. I have no idea why that was," Gladden said. "I don't have an answer for that."
Christ the King will play at highly ranked New Jersey schools St. John Vianney on Friday and at Mainland High School on Saturday.
- See more at: http://www.news12varsity.com/brooklyn-bronx/royals-come-of-age-in-victory-over-south-shore-1.1843229#sthash.Vt4tWIop.dpuf
---