Christ the King Takes Home 'AA' Title
3/14/19 - 09:15 AM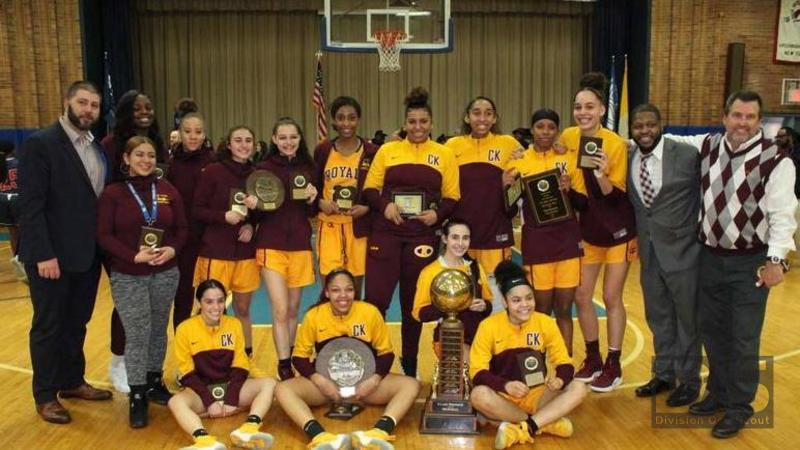 CK Wins Diocesan Title
In the final game of the day, Christ the King H.S., Middle Village, took down St. Francis Prep, Fresh Meadows, 52-34 in the Division 'AA' diocesan championship.
Playing without standout senior guard Kaelynn Satterfield – who averaged 17.3 pts. and 6.5 rebounds per game this season, the Lady Royals got off to a slow start offensively and trailed the L'il Terriers by three after the first quarter.
With the score tied 16-16 at halftime, Christ the King regrouped in the locker room and came out strong in the second half.
"After halftime, we came out ready to play," said senior guard and team captain Nina Rickards, who had a double-double with 10 pts. and 12 rebounds. "Offensively, we worked the ball instead of rushing because it was a fast-paced game at first. We slowed it down and got the shots that we wanted to take."
"We just needed to push more in transition, and the shots that we took, we just had to keep shooting because they were definitely going to fall in the second half," said senior center and team captain Klarke Sconiers, who also had a double-double with a game-high 19 pts. and 12 rebounds. "We kept the confidence and mentality that this was our game."
A quick 7-0 run by the Lady Royals to start the third quarter helped the team open the lead, and 14-2 run to start the fourth sealed the victory. Junior forward Mia Seemadray scored all seven of her points in the final frame. Junior guard MacKayla Scarlett led St. Francis Prep with 10 pts. and four rebounds.
"Our defense was the best offense," said head coach Bob Mackey. "We changed up the defense and got the tempo going. The game was too slow."
The Lady Royals dedicated their win to former assistant coach and player Clare Droesch, who was an All-American her senior year of high school. Droesch was just 36 years old when she died in May 2018 after a six-year battle with breast cancer.
There's no doubt she was looking down proudly on her team as they captured their second consecutive diocesan title.
---