Men's JV Wins City Championship
3/6/17 - 07:30 AM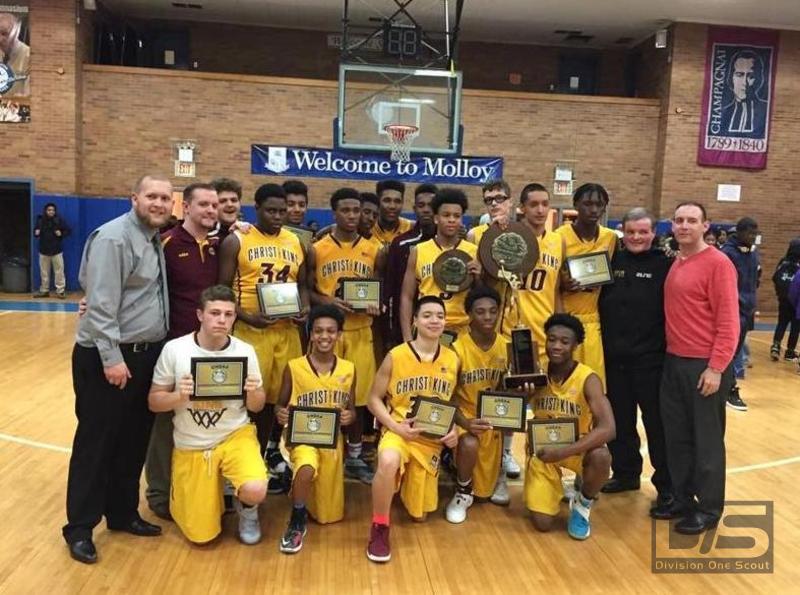 Royals celebrate their city championship victory over rival Bishop Loughlin, 61-50
Congratulations to this years Men's JV Royals on winning the city championship.
The Royals, who lost only two games all season, both to Bishop Loughlin, were able to beat their Brooklyn rival in their title game and earn bragging rights as the best JV team in the city.
CK played without starting PG Tavin Pierre-Phillipe, their leading scorer and team captain, who suffered a knee injury in their semi-final victory over Monsignor Scanlan. Still, the Royals were able to gain revenge, playing flawlessly down the stretch in a close game to secure a 61-50 title victory.
The Royals finished the season with and overall record of 23-2. Their regular season league record was an impressive 13-2, they won the St. Raymond's Thanksgiving Tournament, and went undefeated in non-league play at 7-0.
The Royals average margin of victory in the playoffs was 13.3 points per game,
This is the 2nd JV City Championship for the Royals in the last 3 seasons.
This group of sophomores now has a 2 year record (freshmen and JV) of 46-4, a winning percentage of 92%.
Congratulations to the Royals players, coaches, and basketball program on their accomplishment.
---